I love reading from and talking about my books — poetry, memoir and fiction — and about writing in general.
I've performed and given talks at a wide range of venues such as the Sydney and Adelaide Writers Festivals, La Mama, Teacher's Conferences, creative writing classes, bookshops, Varuna Writers' Centre, Academic conferences, local libraries, and so on. I've also performed work on ABC Radio National for the Listening Room, Poetica, Arts Today, Life Matters, The Comfort Zone and Radio Eye (many of these pieces have been collected on the double CD Body of Words).

Here's a few samples of interviews and readings — Vagabondage interview, / 5 min fiction reading, / extract from 'A Lover of Space', / interview about How to Conceive of a Girl, / talk about appropriation and copyright, and some poems /here and /here.
And here's the booknotes for Vagabondage with some suggestions for discussion topics and the media release.
*If you'd like me to read or talk at your event, click here for contact info, or make a suggestion to your local festival.
*
Coming up
Women of Words – poetry reading at Newcastle, Saturday 4th November, 4-6pm. A fundraiser for The Hunter Women's Centre – $10 at the door. I will be reading along with a fabulous bunch of women writers —  Ivy Ireland,  Alexandra Morris, Jan Dean and Magdalena Ball. The Press Book House, 462 Hunter Street, Newcastle. All welcome. 
This event is part of a series of events in November organised by Janette Hoppe to support the White Ribbon Foundation and the Hunters Women Centre and to promote a new chapbook giving voice to women speaking out about family violence.
*
Past events etc
The One Apple Film Festival and Education Forum,
Gosford Regional Art Gallery, Sunday 9th October, 10am-3pm.
Organised by Karen Adler, The OAFF is taking place in conjunction with the annual Mental Health Art Works! exhibition.
There are several films about rethinking Mental Health, poetry readings and a panel. I'll be reading along with poets from Central Coast Poets, and I'll also be on the panel. I'll be talking briefly about the importance of the stories we tell ourselves, and the possibility of writing/rewriting/reimprinting these in empowering ways.
'The OAFF panel this year will consist of Clinical Psychologist Heather Irvine-Rundle; Dr Isobel Lang MBBS, FRACGP, DipRACOG, FACRRM, DRANZCOG; Judy Leahy, Area Coordinator for Eating Disorders, Central Coast; Debra Lansdowne, Dance Therapist; Dr Stephen Smith, Lecturer in Anthropology & Sociology at Newcastle Uni; Beth Spencer, Poet and EFT/Matrix Reimprinting coach; Jane Wright, Lifestyle and Wellness Coordinator at Aurrum Aged Care. And mygoodself – Karen Adler, Transpersonal Art Therapist, writer/researcher/artist/curator. That should make for an interesting discussion coming from a diverse range of perspectives – and more importantly, not a one-sided conversation that merely preaches to the converted.'
$5 entry fee or gold coin donation if unwaged.
Contact: karenadler222@gmail.com, 0420 593 121
'The Lost Children: remembering the Beaumont Children Fifty Years On', ABC-RN online 17 Sept 2016 and longer audio version at ABC-RN Pocketdocs, 16 Sept 2016.
Reading at Sappho's, Glebe, Sydney, 12th July 2016. With Ouyang Yu, Claire Nashar and Juan Garrido Salgado. You can read Juan's poem about the night, 'Changing Places to Sleep Not for Political/Security Reasons After the Reading at Sappho Last Night'  at Verity La.
Launch speech for Kit Kelen's A Pocket Kit 2 (Flying Islands Press), and reading with other Flying Islands poets at Newcastle Poetry at the Pub, Monday 30th May 2016. The text of the speech is now at Rochford Street Review.
'My Dream Dad' (poem), Canberra Times, April 16th 2016
Poet of the Month for Poem & Dish, Feb 2016 – curated by Zeina Issa.
Interview for ArtSwank radio : Feb 21st 2016
Talking about and reading from The Party of Life, with Suzanne Donisthorpe and Frank Veldze on a Sunday morning for their Central Victorian-based Arts radio program ArtSwank.  * listen to it here.
 Melbourne launch of The Party of Life, Saturday afternoon, 12th December 2015 at Bar Oussou, 653 Sydney Road, Brunswick – 3.30pm for a 4pm start. All welcome. *Check out the video of the launch speech by Peter Kenneally here.
Canberra reading at Poetry at the Gods  on Tuesday 8th December 2015 with Kevin Brophy. 7.30 pm. All welcome.  $10 waged; $5 unwaged. Seating limited to 80 people. Bookings essential. 6248 5538 Light meals are available at 6.00 pm 'Non-eating' seats can also be booked. Readings start at 7.30 pm. The Gods Café/Bar is in the ANU Arts Centre (across the quadrangle from the Student Union near Sullivan's Creek).
The Spirit of Sydney — Poetry Alive! Poems on the theme of Sydney's waterways with a bunch of wonderful poets selected from hundreds of entries. Curated by Les Wicks who says "Basically the journey will be geographical, starting in the south, lingering in the inner west then to the CBD, a leap across the harbour up to the northern suburbs, across to the northern beaches then down to focus on Manly." Manly Art Gallery and Museum, West Esplanade, Manly, NSW. Sunday December 6th at 2pm – 4pm.
Sydney launch of 'The Party of Life' upstairs at the Friend in Hand pub, Cowper Street Glebe. Launched by Bernard Cohen, with readings by Claudia Taranto, Pam Brown and (in Chinese) by Snow Li. (Check out Bernard's speech on youtube.)
Poem (from Vagabondage) – 'Waiting for Rain' in Writ Poetry Review, 2015
Poem — 'The Nine Principles of Harmony' in Southerly, 'War and Peace', Vol 75, No 3, 2015 pp 238-241.
Workshop – Writing Memoir in Fragments – Wyoming Community Centre, Sunday 28th September at 12.30 for 1pm start. Click here for more info and how to register. 
'Forgetting' on ABC-Radio National Earshot, September 2015
Chosen by Timbre for their Best Podcasts for the Week: "When dementia tightens its grip on those we love, who they were is lost to us. But they are still here, they still need us. Writer Beth Spencer tells us of visiting her mother in a nursing home and spending time playing games and sharing stories. That her mother doesn't always remember the rules and sometimes doesn't even remember who she is is almost immaterial. This is a new relationship, and Spencer describes how she and her sister are able to feel for their mom "this pure mother love in a way that's quite new—or so old, perhaps, from some prehistoric fluid time that we've forgotten, a time before symbols and words." The nine minutes of this beautiful episode play like a love song to mothers and daughters, but also like a goodbye letter to someone who is here, here, here, but already gone, even before they've disappeared in the rearview mirror." Listen at the ABC or on youtube.
A fun night introducing and talking about Louisa May Alcott's satirical essay 'Transcendental Wild Oats' and her later work (including the Little Women series) for the Classic Memoir night at The Memoir Club in Randwick, NSW. (August 2015)
In conversation about Vagabondage with the wonderful Susan Johnson at the fabulous Avid Reader Bookshop in Brisbane in May 2015.
Reading from and talking about Vagabondage at Berkeleouw Books in Eumundi on the Sunshine Coast, hosted by the Sunshine Hinterland Writers Centre/Reality Bites in May 2015.
Interview with Robbie Coburn and Nathan Hondros for Australian Poetry Podcast  Episode 4, April 2015. Listen to it here.
'Fickle' (poem from Vagabondage), in Jennifer Compton's excellent poetry blog, Stillcraic, March 30 2015.
Newcastle Writer's Festival, March 20-22nd 2015. On a panel on verse memoir/biography/novels with Jennifer Compton and Julie Chevalier; part
of  a group reading celebrating the anthology A Slow Combusting Hymn (Newcastle poets) edited by Jean Kent & Kit Kelen; and also part of a group book launch where Vagabondage had it's central coast launching along with a new book by Jean Kent, and a bunch of others.

Randwick Arts Festival, Memoir Panel with Beth Yahp and Jessica Kirkness.
November 16th 2014 1-3pm, Randwick Literary Institute, Sydney.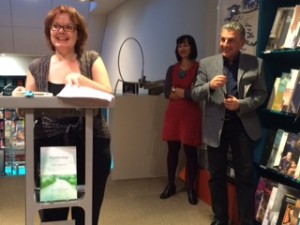 Launches of Vagabondage in Sydney at Better Read Than Dead in Newtown (9th October 2014) and in Melbourne at Brunswick Bound bookshop (23rd October 2014).