.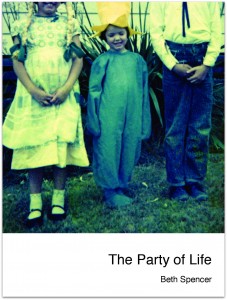 I am delighted to be a part of the ASM/Flying Islands/Cerberus Pocket series of bilingual (English and Chinese) poetry books with this special collection of new and selected poems called The Party of Life.
These poems and prose poems were selected and translated into Mandarin by Ruby Chen, with additional translations by Iris Fan.
The Party of Life explores love, death, family, gender, sexuality, class and belonging. It is also about what is left unsaid — the gaps and juxtapositions — within and through which we create meaning and relationship.

And as with all good parties, I hope you will find something here to enjoy and ponder.
"The Party of Life is a big book disguised as a little book. It is the Tardis of books. …Highly portable, richly evocative, impeccably observed and moving… There's something lovely about bilingual texts… like this one which to me is visually beautiful, full of promise and of the questions of what is possible to carry over from one vernacular to another."
— Bernard Cohen
"I want this and all the bilingual books in the series to evolve uniquely from the translation encounter, rather than being translations of any existing book."
— Series editor, Prof Kit Kelen
The poems and prose poems chosen for this book span thirty years of writing and publishing and include work from Things in a Glass Box, How to Conceive of a Girl, Vagabondage and some as yet uncollected pieces.
"These are beautiful poems Beth has written.  I got goosebumps while translating some of them. They are all hauntingly beautiful.
Some of my favourites are 'When you Hold Me (The Bra Monologues)', 'Forgetting', 'Eve in the Garden', 'The Party of Life' and 'Love Poem'. I remember not being able to move when I came to the last line of 'the Bra Monologues'. I don't know why; I was strangely touched.
They say once an author finishes a piece of work, the work no longer belongs to her, because then the work is open to interpretation by the readers. Some interpretation may be the same as intended by the author, while some may be not, but what's interesting about a good poem is that it will touch your heart, no matter how you interpret it."
— Ruby Chen (translator)

'Seen through the glass of a display case, a caravan window, a train window, or even you would think, through Beth's glasses… here's a lived and remembered life, unreservedly felt, but it's felt through art. As Beckett didn't say "Ever tried. Ever felt. No matter. Try Again. Feel again. Feel better." So when, at the start of "The Museum of Fire" she quotes Peter Tyndall "A person looks at work of art / Someone looks at something" it is an "aha" moment that lasts the whole book through because, like Tyndall, Beth's statement is always true, always the same, and yet infinitely variable.' – Peter Kenneally
The ASM/Flying Islands pocket books are beautifully designed with silky cello-glaze covers. They truly do fit into your pocket and are fabulous value at only $10 each (or $12 posted).
Others Australian poets in the series include Jean Kent, Jan Dean, Philip Salom, Judy Johnson, Richard James Allen, John Bennett, Pam Brown, Greg McLaren, Alan Jefferies, Philip Hammial, Mark Tredinnick, Steven Schroeder, Anna Couani, Rae Desmond Jones, Nathan Curnow and Kit Kelen.
*
The Party of Life was launched in Sydney upstairs at The Friend in Hand in Glebe. Thank you to Bernard Cohen for the launch speech, and to Claudia Taranto, Snow Li and Pam Brown for readings.
If you missed it, here's Bernard Cohen's great launch speech — both text and video version –  at Rochford Street Review.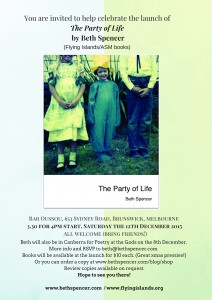 In Melbourne it was launched at Bar Oussou, on Saturday 12th December,  by Peter Kenneally, and you can read and watch his speech here. 
My great thanks to Ruby Chen and Iris Fan for the care and attention they devoted to the selection and translations. It has been a fabulous experience to have my work — some of which I wrote many years ago — connect with these young women of a different generation and culture.
And huge thanks to all involved in editing and production, with special gold stars to Kit Kelen, Australian poet and Professor of English at Macao University, for creating and nurturing this wonderful project of linking Australian poets with Chinese translators. Kit's vision has now evolved into a global project with many more translations (in multiple languages) and more collections in the pipeline.
Contact him at kitkelen [at] gmail [dot] com for more information about this series, or check out the Flying Islands website here.
*
"…a writer of exceptional sensitivity, precision
and courage."  — Peter Bishop

"Beth Spencer's poetry makes each moment rich,
like the bud that unfolds to the flower." — Alison Lyssa
The cover image is a detail from a photograph taken by my mother, Iris V F Spencer in which  I am wearing the daffodil suit she created for me for a church concert. Stories and imagination were life-savers for me as a child; and on this day I remember being totally, gloriously happy simply to be a little daffodil, connecting out to all the plants and all the beings in the world…
May poetry and play be a part of every life and every day.
* Review copies available on request.
* The Party of Life is a special edition not available in shops. You can purchase a copy here for $12 including postage within Australia.  
* If you know anyone who is teaching or studying Chinese and would like a free PDF copy, send me a message.