Originally published by Vintage/Random House. Now available as an Amazon Kindle ebook.  Also some copies of the original paperback also available here.
'This collection is an old favourite – close to my heart. A prismatic and often stunningly drawn exploration of what it is to be a woman. As relevant today as it was when it was first published in the mid-90s, if not more so. Highly recommended.' — (author) Kim Kelly on Goodreads

'Witty, emotionally powerful, and very crisp.' — Louise Adler, Arts Today
".. a collection of writing that defies easy definition, combining short story, essay, montage and reverie, sometimes on the same page. Spencer moves from dreamlike fantasy to acute analysis… Rewarding and engrossing reading."– Phillipa Hawker, Marie Clare
'Beth Spencer flings herself into textual free-fall in this strange, delightful book… the collection simply buzzes… More please.'  — The Good Weekend
*
"I lay on the couch and watched my face in all the thousands of mirrors of a beautiful Indian wall hanging, made out of dozens of sections of wedding dresses…

"Wives and mothers and grandmothers: the culturally sanctioned, the ones stitched neatly and faithfully into the social fabric, the ones `accounted for'. And outside this, the faintly illicit, the ones never given a voice in the family, the lovers and daughters. The unaccounted for, the unattached."
 *
  The characters in How to Conceive of a Girl, from Barbara Boulevard to Peta Pan, were all born into the television generation, with their childhood in the 60s and their adolescence in the 70s.
Raised on cartoons, platform shoes, Bewitched, no fault divorce and The Female Eunuch, each begins and ends her story as a single woman, remaining — despite a range of experiences with lovers, family, friends, private and public histories — outside the accepted ways of finding a home and a sense of belonging.
The title phrase comes from an essay by French philosopher and psychoanalyst, Luce Irigaray. In traditional western philosophy, women have always been conceived of (thought about, conceptualised) as the same as men or as lacking in some way — the same', the 'opposite' or the 'complement'. Which is to say that femininity has generally only been conceived of philosophically in terms of the couple.
But what happens to the culture if this conception of a girl is changed?
*
 'Written with an elegance and eloquence that is inspiring…Her best is quite funny and sad and erotic.'  — City Weekly
'Her montage or collage assembly of incidents and reflections, re-arrangments of time and place, attract me enormously… The playfulness of the methods she employs and the self-questioning throughout… reflect an intellectual toughness that deserves to be encouraged and promoted.' — Michael Sharkey, The Australian
'At times Spencer's stories made me laugh, they constantly made me reflect, once of twice they made me cry… a talented and inspiring writer.'  — Enza Gandolfo, Australian Women's Book Review
'Beth Spencer has developed a mode of narrative which seems effortlessly to embody complex and intensely mobile ideas. Everything  dances… One of the most interesting and valuable writers working in  Australia.' — Peter Bishop, former-Director, Varuna Writers Centre
'By revealing that there's nothing "natural" about being/becoming/conceiving of a girl, by bringing this into language, literature and therefore culture, Spencer makes it more possible to rethink/renegotiate the social contract… ..[There are] dangers involved in broadening gender definitions, in boundary crossing, in abseiling and hang-glidings from secure subject positions; that is, in bringing the unknown, the unarticulated, the disavowed into cultural consciousness. It's a serious business… and I'm always grateful and amazed, renewed in my attempts to continue doing this when I read work like How to Conceive of a Girl. You could say that it en/genders courage.' — Kathleen Mary Fallon, Australian Book Review
''If you immerse yourself and let the fragments accumulate, you get a new perspective on the messy, lateral workings of the human heart and mind. It's exhilarating.' — Jenny Pausacker, The Age
Click here to buy How to Conceive of a Girl from Amazon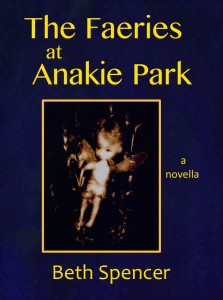 *** Or you can buy 'The Faeries at Anakie Park' (a novella from How to Conceive of a Girl) for 99c as a taster. 
How to Conceive of a Girl was originally published by Vintage/Random House Australia in 1996, and was runner-up for the Steele Rudd Award.
Nb if you don't own a Kindle, you can download free software here to read Kindle ebooks on your iPad or computer. Or send a message if you wish to be notified if other versions become available.
* Read an interview with Beth Spencer about How to Conceive of a Girl
* Listen to an extract from 'A Lover of Space' about families and food
* Listen to a 3 min extract from 'The Faeries at Anakie Park'
* Listen to an interview from Arts Today, ABC Radio National
*Listen to an interview about 'The Faeries at Anakie Park' and what it means to have never had children in a culture that still sees marriage and motherhood as the ultimate symbols of adulthood for women. From ABC-RN Life Matters, interviewed by Norman Swan.
*For students and teachers: two of Beth's stories, 'The Education of Deirdre Johnston' and 'Playing the Man: Memories of Football' are featured in the collection Storyweavers, edited by Sandra Bernhardt and published by Macmillan Educational.
 Click here to buy 'The Faeries at Anakie Park'  from How to Conceive of a Girl) for just 99 cents.  This novella is about 90 pages long, so takes about the same amount of time to read as watching a tv show.
Or you can send it as a gift to someone you think might enjoy it. Just choose 'give as gift' when purchasing, and enter the recipient's email address when prompted.
Contact us if you would like a review copy.