If you're in a Book Club and would like to consider Vagabondage as one of  the books for your group to read, you can download some booknotes here, with suggested topics and questions to kick start the discussion. And you can also have a look at the first section of the book here for a free taste.
Or go here to check out what reviewers have said.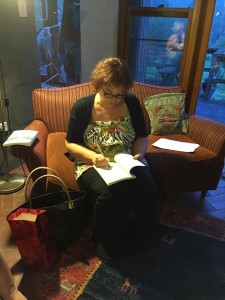 My own Book club read Vagabondage just after it first came out (here's a pic of me signing copies and feeling pretty happy).
We had a great discussion about the meaning of 'home' and what it feels like to either be disconnected (due to travelling, major life change, etc) from the things that mark your place and tether you within family and community (the webs of meaning and belonging), or too firmly tied into them and longing for some freedom.
For most it was the first time they'd read a poetry book since school days, and they were surprised to find that once they picked it up they read it straight through or in a couple of sessions.
It was also handy to have a short book being so close to Christmas (busy busy) and after a few long books in a row.
Anyway, if your Book Group would like to choose Vagabondage, keep in mind that if you order six or more copies at once (to be sent to the same address) you get a 20% discount.
For info on how to order from the publisher  & get this discount (and free postage), go to UWAP's Book Club page.
If you would to order through me (and get signed copies and some cute bookmarks as well as the 20% discount and free postage), just send a message with the details of your order (how many copies and where to post them) and I'll send you info for how to pay via paypal or direct deposit (let me know which you'd prefer).
If you do read Vagabondage in your Book Group — I'd love to hear how it went and any thoughts or comments (you can comment below or send a message). And if you send a photo of your book group (if everyone agrees) I'll post it on here.
Book Clubs are great! Happy reading to you all.