(This is from the eulogy I gave at my 96 year old Mum's funeral on the 4th September, 2017 at Boronia Church of Christ in Victoria. There is also a wonderful slideshow of her life at the end, so feel free to skip straight to that.)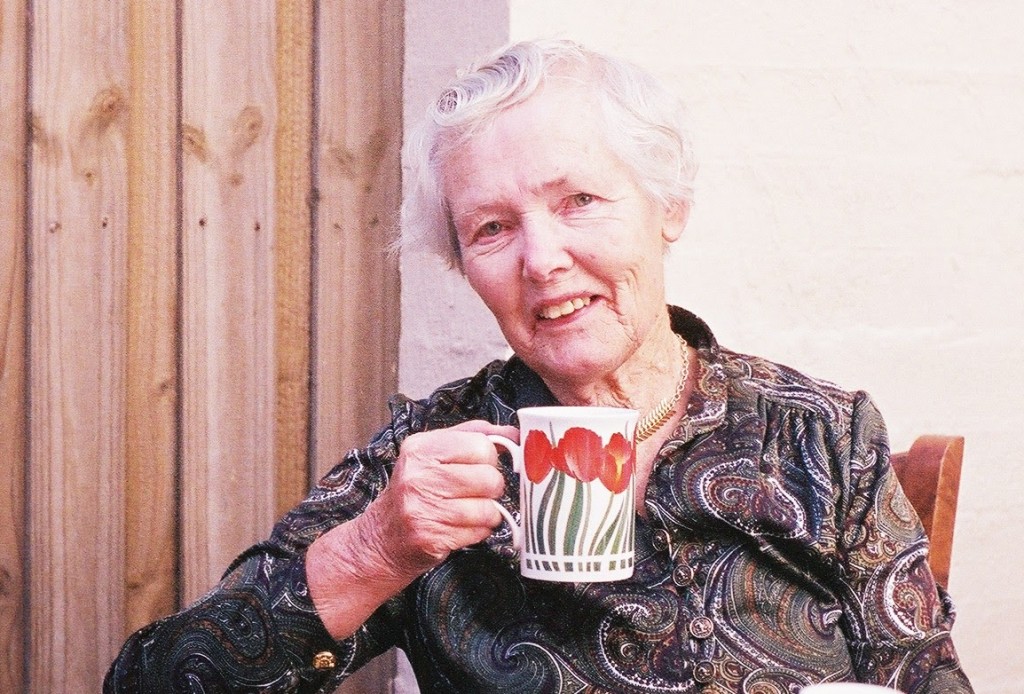 One of the most significant events in Mum's life was the death of her father at age six. I think that probably changed everything for her and for her mother and brothers and sister.
Her father, Harold Steele, was the Head Electrician at Hoyts in 1927 when he was sent over from Melbourne to supervise the wiring of the new Hoyts theatre in Adelaide. Soon after he arrived he contracted pneumonia and in a few weeks was dead, leaving Grandma a widow at 37 with five children.
There was no widow's pension in those days, but there was some child allowance. Mum told me that someone from the government would come around regularly to inspect their house and the children's clothes to make sure Grandma wasn't spending the money on alcohol or on herself. One thing she remembered was that they were required to have a certain number of singlets per child, but of course Grandma couldn't afford this, even with the countless meals of lamb's shank stew and the day old bread from a friendly baker, and even when they ate their meal in the dark if the electricity meter ran out rather than feed it another precious shilling. So Grandma would fold the old singlets full of holes in such a way that when the inspector came it looked as if there were enough.
It's hard for us to imagine what it was like growing up during the depression, and in such poverty. And then there was World war two.
Mum is one of the last of that generation.
The habits of 'making do', and 'fixing up' were a part of that. And it was a habit she totally embraced.
She was always making something over, fixing it up, painting it a new colour, adding some adhesive vinyl contact, sewing new cushions for it, some new handles, add a new collar, a bit of embroidery…
We would go to school with our bedroom painted pink, with pink furniture, and come home and it was now blue.
You could never move the furniture though because she didn't ask for help – even though she had four boys and a husband – and would just paint around it. When I asked how she did the ceilings she said she would drag the kitchen table into the room and stand on it and move it around.
If you looked through her wardrobe, especially in later years, I don't think there was one item of clothing that hadn't been altered in some way.
Even Mr Fletcher himself couldn't escape her improving hand. I'm sure quite a few of you were shown (possibly many times) the genuine Fletcher Jones skirt that she bought from an op shop for $12 – an amazing dream for a girl of her background, to own a genuine Fletcher Jones skirt. And then of course she cut it and altered it a bit to make it just right.
It's a legacy that I think most of us children have inherited. — How can this be improved? How can this old thing that someone is throwing out be transformed into something useful? What can be invented using these old bits of scrap? Nothing like a good problem to get your teeth into.
I know Brian calls it 'the Uncle Keith gene' — the eccentric inventor gene. Creativity expressing itself in wild and wonderful ways.
Perhaps it was passed down to us from that grandfather we never knew, who died in Adelaide when Mum was six.
It's not a bad legacy. A doggedness and persistence. And an eternal optimism that something can be made better if we just apply a bit of thought and elbow grease to it.
*
I found it incredibly hard working out what to say today. How do you do justice to such a long life, to all the complexity of a human being?
It's hard when you write a eulogy not to get into that make-over habit.
What can we do with this life? Cut and paste, trim those bits off, give a little tuck here, add a bit of embroidery.
Looking back over my mother's long life this past week — a life lived through circumstances so radically different from my own – has been for me an immeasurably sad and moving and exhilarating process. A roller coaster of emotions. And a privilege.
I'm sure most of you have had a lot of memories crashing in. A mad jumbled mess. That seems to be the process of grief. The process of taking stock.
I like the make do mentality. Take what you need, use what serves you, and, if you can, let the rest go.
*
Sorting and sifting through the photos — so many photos (thank you to all those who have sent me photos this week) — I've been thinking a lot about my parent's marriage.
It's also 21 years this weekend since Dad died.
I know theirs wasn't the most successful marriage in the world. You wonder sometimes why two people with such different interests got together at all.
But when I look at the photos of them before the war, they seemed so happy, and so in love.
Mum said to me once that before they were married 'we were everything to each other'.
I wanted to wear this necklace today (a blue diamonte necklace), even though it's a little out there, as it's one of two that Dad bought for her when they were engaged.
He was only eighteen and I think he must have thought, wow, so cheap for diamonds, and so he bought a pink one and a blue one. Some of you may remember her wearing them to church sometimes.
And then there was the war. Dad was stationed at Darwin, and few people realised – or were told – how severe the bombing was there. I took Mum and one of her friends to see Baz Lurman's Australia a few years back, and they both commented afterwards about the bombing, saying 'We just never knew'.
When I asked Dad about the war he said it was 'a waste of four years of my life'. He always refused to watch any tv shows or movies about war. (One of the few times he made an exception was he watched an episode of The Sullivans because someone had told him it featured an old horse and jinker and he was interested to see it preserved.) He also told me that once they found out he was a blacksmith they kept him in Darwin, but that all the other men he joined up with in his battalion went to New Guinea and were killed.
Mum said when he came back, 'All he wanted to do was sit around in the backyard.'
Complex PTSD wasn't something with a label in those days. Although the army did recognise the stress, as they paid all Dad's medical bills for his ulcer for many decades afterwards.
Even after the war, Mum and Dad didn't have the best circumstances for the start to their marriage. There was a severe housing shortage, and their first baby, Frank, was born while they were still living in a room across the hall from her mother and younger sister Marge.
By the time they got their own real home in Boxleigh Grove, they had a tribe of boys. And by the time we moved to the farm at Yarra Glen they had six children.
As Mum had lost her father when she was six, I don't think she ever had a model of how to include a husband in child raising, or for how to ask for help.
And of course there was no marriage counselling available in those days. It was just not something you talked about.
So they had separated, really, in a way, long before their actual separation later in life (when Dad was 70 and Mum was 72).
But even after this, I would talk with Dad on the phone and while he often started off angry and confused he would usually end the conversation by saying, 'I just want her to be happy.'
A few months before Dad died, I took Mum around to see him, because she said she just wanted to sit with him one more time and say 'I'm sorry our marriage didn't work out.'
For someone not brought up to talk openly about things like this, I think that was very courageous.
And she did get to say what she wanted to say, and they did get to have their moment together, where they were just two people who had done the best they could.
And they got to say to each other 'no hard feelings' and 'all the best'.
*
I have so much gratitude for them, for what they did for us, for the foundation they gave us in life. For all their incredible hard work and sacrifice.
When I think — just as one small example — of all the meals Mum cooked. For seventeen years just about every bite of food I ate was prepared by her hands, or put in the fridge by her — or for the first months was a part of her body.
Even when we went away on trips to see relatives – Aunty Marge and Uncle Ted in Kaniva, or the Walkers at Shepparton, or Sundays at Uncle Keith and Aunty Shirley's – Mum would be in the kitchen helping with the meals. Every day. Every meal. And on the farm that also included morning and afternoon teas for the boys. Without a break.
Sixteen years of nappies… (not all mine, of course.)
I think she was utterly overwhelmed in my childhood, with six children, and all that went with that. And so it wasn't until much later that I got to see a more playful side of her.
She said to me once how she used to get down on the floor and play games with us. And I thought… yeah… I don't remember that.
But when I talked with the grandchildren – Rummykin came up several times, and lots of other board games. And in the photos with the grandchildren she is smiling in a way I didn't see so much in my childhood. So I'm moved and grateful to see all this, and to hear the stories. And I'm grateful to have experienced that side of her later in our lives, the playfulness, the competitiveness in sports and games, the fun.
*
A few years ago I wrote a long poem about Mum called 'Forgetting'. It's from a book about the year I lived in a campervan just after I turned fifty, and the poem is about the onset of Mum's memory loss and what it meant to our relationship.
At that time I discovered that outside Elly Kay, the Residential Care facility where Mum was living, was a great place to park overnight – nice and safe and quiet, and in the morning I would use her bathroom and she would get out her cups and make tea. As always, she loved playing hostess.
So I just want to finish by reading a bit from the end of that piece.
*
On the day I hug my Mother goodbye,
knowing I'm heading north for some time,
I get a surge of feeling,
a direct transfer of emotion,
a special mother-love-beam
that penetrates to my marrow.
I think: she is old.
I may never hug my mother again.
My sister and I have talked about how
the more she detaches from her old life
— the more she forgets and lives in the present,
the more the words strip away —
the more we are able to feel this pure
mother-love in a way that is quite new.
Or so old, perhaps,
from some pre-historic,
fluid time
(before symbols and words)
that we've forgotten.
She poses in front of the open side door
of my Van and I take a photo (a good photo
– the kind she likes — hair neatly combed,
face full to the camera).
Then we reverse and she takes one of me.
She hugs me again, for a long time.
And then stands with her roller-walker at the gate,
refusing to go in until she has seen me leave.
She didn't sign out,
so I hope she doesn't wander off.
There is a fierce look of determination
on her face as I drive away.
And I can still feel
the imprint of her heart on mine.
*
*
My thanks to everyone who came to the funeral, especially to the honoured guests — the last from Mum's generation – Aunty Marje, Uncle Ted, Aunty Edie and Aunty Shirley. And thank you to my brother Brian for organising the funeral with me from afar, and for putting together the wonderful slideshow of her life. What an extraordinary thing to be able to witness a life from start to finish. Thank you Mum.
* Part 2: 'The power of music: remembering my Mum'
Thanks for liking and sharing!