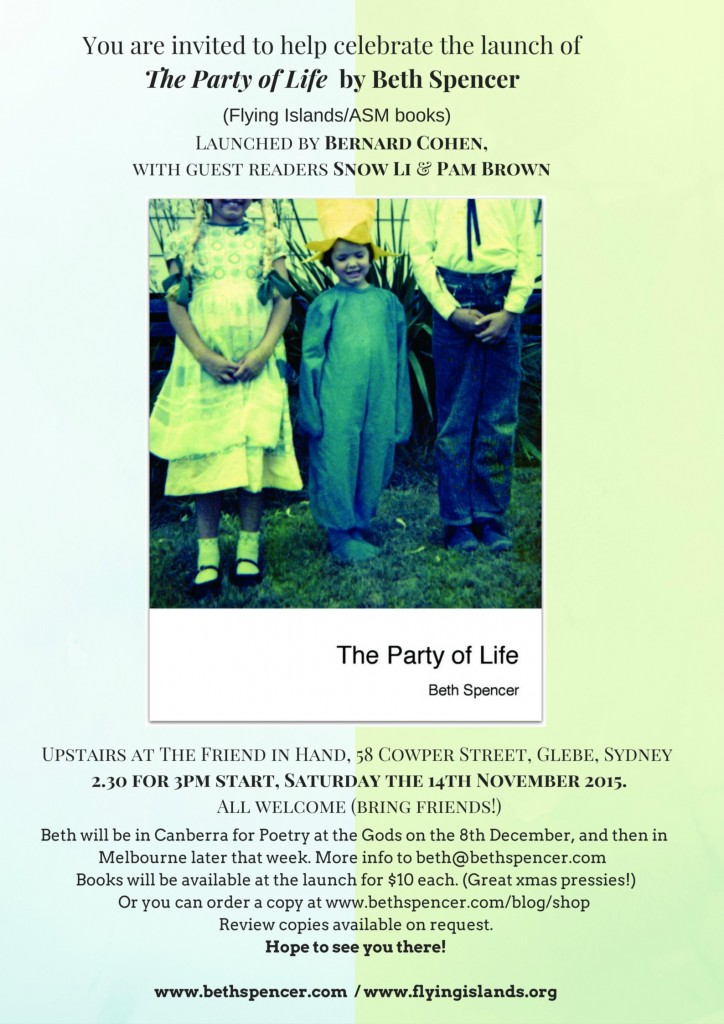 And if you can't make the Sydney launch and you're on the Central Coast – send me a message for the address and come along for a small launch-drinks at my house in Terrigal on Thursday 19th November at 6 for 6.30pm. If you'd like to know about any Melbourne event — just send a message and I'll keep you informed. (And also let me know if you have any venue suggestions for Melbourne in December!)
And if you can't make either launch and would like a copy — you can order one here. Limited numbers at the moment, so grab a copy if you want one, only $10 plus $2 for post and packing.
If you're on FaceBook, the event invite is here for Sydney, and here for Central Coast. Feel free to invite yourself, and to share it with anyone you think might be interested. 
This is a bilingual (English and Chinese) new and selected poems, published by ASM/Flying Islands for the Pocket Book translation series, edited by Kit Kelen. Big thanks to my translator Ruby Chen and to Iris Fan for additional translations, and to Snow Li and Maria Wong for reading in Mandarin at the launches. (It will be the first time I've heard the poems read aloud in Chinese and I'm looking forward to this.)
And thank you to those who will be helping out at at the Sydney launch — Bernard Cohen for launching it, Pam Brown and Snow Li for reading poems, and Claudia Taranto for being contributing MC.
If you would like a review copy, let me know. And if you know any teachers of Chinese who might like a PDF copy, I'm happy to send them one. 
Feeling very lucky to have another book out and another excuse for a party (it's almost exactly a year since I launched Vagabondage) — hope to see you there!
Thanks for liking and sharing!