I am delighted to have been asked to choose a 'classic memoir' text to discuss at the Sydney Memoir Club in Randwick on Tuesday the 28th July – to which you are all invited.
I've chosen Louisa May Alcott's 1873 humorous essay 'Transcendental Wild Oats' and would like to talk about this in the context of the immensely popular Little Women series for which she is best known.
When I was a child Little Women and Good Wives (together in one big red volume) was one of the few books we had, and the character Jo March was enormously influential for me as for many others.
'Transcendental Wild Oats' — regarding the year when she was ten and her family joined an extremely idealistic utopian community — gives, however, a very different picture from the 'shabby gentility' of the Marches.
Louisa's father, Amos Bronson Alcott, was a well known Transcendentalist philosopher, and the family were friends with Ralph Waldo Emerson, Henry Thoreau and other New England intellectuals. However Bronson Alcott chose to concentrate on his philosophy to such an extent that the task of breadwinner often fell to Louisa's mother, Abby, and later to Louisa herself, at a time when it was extremely difficult for a 'genteel' woman, especially a married one, to find paid work.
For one season, for instance, they lived on a diet of bread, apples and water. And as you'll read in 'Transcendental Wild Oats' the Alcotts (which Louisa sometimes referred to as 'The Pathetic Family') were way more eccentric than the Marches and went through some extreme challenges that are glossed over in the fiction.
Which of course would be fine — there is a big difference between fiction and memoir, after all — except that for many of her biographers Little Women is 'Louisa's own story just as it happened', 'truer than true', told 'without artifice,' 'written from the heart exactly as it occurred'.
Indeed Louisa encouraged this blurring of the boundaries and in later life actively participated in the creation of this mythology.
For in Little Women she created a version of her upbringing that rescued her family and made them respectable (neatly dispatching Mr March off to war, for instance, so Marmee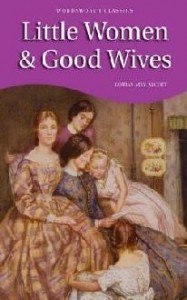 could legitimately run the show). The popularity of the books also provided her, in a time when spinsters were generally looked down upon and silenced, with a safe and authoritative persona as 'Aunt Jo' (married and a mother by the third book) while allowing Louisa herself to nevertheless remain unmarried and 'paddle her own canoe'.
The Little Women series also provided the framework for her more controversial and troubling works — such as her 'lost' novel Moods (written when she was in her late 20s and roundly criticised by reviewers for its questioning attitude to marriage) and her blood & thunder stories written under a pseudonym — to be attributed to the young inexperienced 'Jo' and ignored by most of the biographers as juvenilia.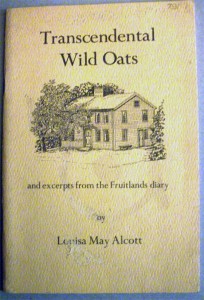 'Transcendental Wild Oats' is a curious piece of writing, because it sits in a way in a crack between the disavowed works (which often question marriage as providing emotional safety for women) and the canonised ones (with the famous dictum, 'to be loved and chosen by a good man is the best and sweetest thing which can happen to a women').
Her voice is 'humorous', but underneath is a biting criticism of a world ruled by men, even when those men are some of the most 'enlightened' of their time.
'Transcendental Wild Oats' is available for download at http://public.wsu.edu/~campbelld/engl368/transoats.pdf
Little Women & Good Wives, Little Men, and Jo's Boys are all available for free at Project Gutenberg where you can download them as pdf, mobi (for kindle) or ePub versions. http://www.gutenberg.org/ebooks/author/102
The Sydney Memoir Club for Writers and Readers meets on the last Tuesday of every month in the Norm Hoffman Memorial Hall of The Randwick Literary Institute at 60 Clovelly Road, Randwick, NSW, from 6-9pm.
Donation: $15 at the door for hall hire, refreshments and speakers.
Food: $15 for a plate of delicious vegetarian finger food (different each meeting). Ring or text to book a plate: 0450 907 422.
Thank you to Beth Yahp, Barbara Brooks and Alison Lyssa for organising this. More info here at Beth Yahp's blog.
This talk will be partly based on my research and ideas from my thesis 'Louisa May Alcott: the Lost Work, the Later Work, and the Life' (Sydney University, 1982). I read nine biographies for that thesis (and most of her books and much else). However there has been a whole new batch of biographies since then… Will have to do some quick catch up reading! Louisa May Alcott is a fascinating subject.
Hope to see you there.
Thanks for liking and sharing!