Vale Nelson Mandela (1918-2013) – thank you for your truly courageous and inspiring life.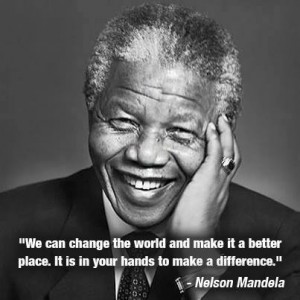 I found it so moving today to open my Facebook feed and find such an outpouring of grief and gratitude from around the world for this amazing man and his legacy. So I thought I'd share here some of my favourite of his words.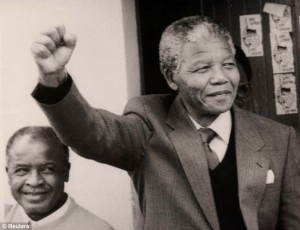 "As I walked out the door toward the gate that would lead to my freedom, I knew if I didn't leave my bitterness and hatred behind, I'd still be in prison."
And this, as told by Bill Clinton:
I'll tell you, one of the most meaningful conversations I ever had in my life was with Nelson Mandela, who has been a wonderful friend to me and to Hillary and especially to our daughter. And I remember one time, you know, after I got to know him, I said, "You know, Mr. President, you're a very great man with a great spirit and all that, but you're also a shrewd politician," kind of like what I was saying about Jim. You know, he is a good guy, but the stuff he does makes sense, too. And I said, "That was pretty smart of you to have your jailers come to the Inauguration and all of that, but let me ask you something." I said, "Didn't you really hate them for what they did?"

He said, "Oh, yeah, I hated them for a long time." He said, "I stayed alive on hate for 12 years. I broke rocks every day, and I stayed alive on hate." And he said, "They took a lot away from me. They took me away from my wife, and it subsequently destroyed my marriage. They took me away from seeing my children grow up. They abused me mentally and physically. And one day," he said, "I realized they could take it all except my mind and my heart." He said, "Those things I would have to give to them, and I simply decided not to give them away."

And so—so I said to him, I said, "Well, what about when you were getting out of prison?" I said, "The day you got out of prison in 1990, it was Sunday morning, and I got my daughter up early in the morning, and I took her down to the kitchen, and I turned on the television, and she was just a little girl then, and I sat her up on the kitchen counter. And I said, 'Chelsea, I want you to watch this. This is one of the most important things you'll ever see in your life."' And I said, "I watched you walk down that dirt road to freedom." I said, "Now, when you were walking down there, and you realized how long you had been in their prison, didn't you hate them then? Didn't you feel some hatred?"

He said, "Yes, I did a little bit." He said, "I felt that." And he said, "Frankly, I was kind of afraid, too, because I hadn't been free in so long." But he said, "As I felt the anger rising up, I thought to myself, 'They have already had you for 27 years. And if you keep hating them, they'll have you again.' And I said, 'I want to be free.' And so I let it go. I let it go."
[from Bill Clinton, Remarks at a Reception for Representative James E. Clyburn in Columbia, South Carolina, March 29, 2000]
 *

'Mr. Mandela is considered a chief of his tribe; his family name is Mandiba. But he represents a much larger tribe. He is the chief of the tribe of courage, and decency for all of mankind. There is not a more significant, important, profound world leader of this century.
A hundred years from now, they will speak his name, and somewhere a child will be imbued with his spirit and use that inspiration to achieve greatness. This is his legacy, a path of light for generations to come.'

— Muhammad Ali

(Well worth reading the whole of Ali's tribute here, but have some tissues handy).

*

"What counts in life is not the mere fact that we have lived. It is what difference we have made to the lives of others that will determine the significance of the life we lead."
— Nelson Mandela

*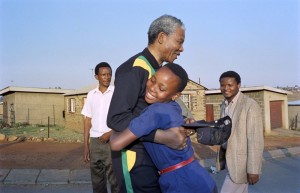 *
Thanks for liking and sharing!