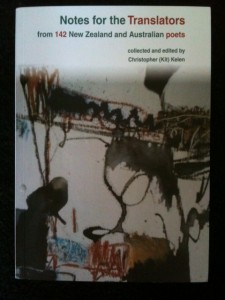 Notes for the Translators: 142 New Zealand and Australian Poets is a remarkable collection edited by the ever-creative Kit Kelen.
Each poem is accompanied by a mini essay by the poet — about the poem, the references, idiom, allusions within it and the circumstances of its creation.
The aim is to provide materials to assist potential translators of Australian work, in any language.
But it also provides an amazing insight into the craft of poetry and the many ways it is approached and practiced.
Kit Kelen has already been instrumental in match-making Chinese translators with Australian poets and publishing the results in anthologies and single collections, through a program he has developed out his work as Professor of English at Macao University.
I was fortunate to be involved in this process for three of my poems for the collection Wombats of Bundanon (2010). This included a long one full of Australianisms and class references, 'The Museum of Fire', which both surprised and delighted me when it was chosen by the translator, Iris Fan.
Meeting with the translation team at Bundanon was so much fun, and it was a really magical experience to witness a poem I wrote quite a while back being of interest to, and being given so much attention by someone from such a different generation and culture.
Iris Fan is herself a lovely poet (lost in the afternoon, 2009), and is currently undertaking a PhD at the University of Western Australia. So the exchange, organised by Kelen, has borne fruit in lots of ways.
This new book — Notes for the Translators – to be launched this month (July) — is such a clever idea I wonder why it hasn't been done more often. Even without the benefits of making Australian & NZ poetry more accessible to translators worldwide, it is just such a fascinating read for anyone interested in poetry.
The range and number of poets — 147 of them, well known in poetry circles in Australia and/or New Zealand– makes this a big interesting book by itself. But the added value of the 'notes' on each poem by the poets is a real treasure.
Notes for the Translators will be launched at a few venues over the next few weeks, with readings by a bunch of poets from the book at each launch (the Sydney one, in particular, should be quite a party).
**NEW: Melbourne Launch — at the Boyd Assembly Hall, 207-227 City Rd, Southbank, 3006.
on Saturday 28th September – 3.30 for 4.00pm. Those reading so far are :
Alex Skovron, Chris Wallace-Crabbe, Jennifer Compton, Grant Caldwell, Michael Farrell and Patricia Sykes. All welcome.
Launch in Wagga Wagga — at Charles Sturt University — ASAL Conference – at 1 pm on Thursday 4th July 2013
Launch in Sydney — at the Friend in Hand pub (upstairs) – 58 Cowper St Glebe — at 7 pm on Monday 8th July 2013Launch in Newcastle — Theatre Lane Hotel 189 Hunter Street Newcastle (at the western end of Hunter Street Mall)
at 7.30 pm on Monday 15th July

 S
o far, the following people will be reading at the launches:
Wagga Wagga – Thursday 4th July
Jill Jones, 
Corey Wakeling, 
Toby Fitch, 
Andrew Burke, 
Michael Farrell 
Joanne Burns, 
Anna Couani, 
Brook Emery, 
Richard Tipping, 
Eileen Chong, 
Beth Spencer, 
Andy Kissane, 
Richard James Allen, 
Cecilia White, 
David Musgrave, 
Alex Skovron, 
Alan Wearne, 
Toby Fitch, 
Pam Brown, 
Claine Kelly, 
Billy Marshall-Stoneking, 
Rae Desmond Jones, 
Mark Roberts, 
Margaret Bradstock 
Newcastle – Monday 15th July 
David Musgrave, 
Jean Kent, 
Beth Spencer, 
Jan Dean, 
Brian Purcell, 
Mark Tredinnick
 ..and of course Kit Kelen too.
And by the way, if you're interested and able to organise a launch in your city, contact Kit. 

To purchase a copy and support a really wonderful publishing venture, head along to one of the launches or contact Kit.
And why not order a copy for your university, school or local library? A fantastic teaching resource.
….and finally – please share this post and launch invite with your poetry-loving friends! Thanks.
PS (added 7th Nov 2013) – In Australia you can now get copies from Collected Works Bookshop – Level 1/37 Swanston St, Melbourne VIC 3000.  They can also do mail order if you phone (03) 9654 8873 or email them at
< collectedworks [at] mailcity [dot] com >
Thanks for liking and sharing!