.
What is an okapi?
And why should a creature barely seen by humans matter to us?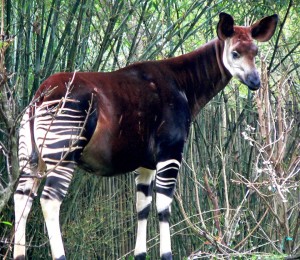 Background to this poem: 
A museum is more than just a place made up of things, it is also an arrangement of bodies: a network of gazes, positions, a maze of looks. Colonising looks: like western explorers, the museum specialises in discoveries of things that were never lost or hidden except in a personal, subjective sense. Thus we map ourselves onto the objects of the Other; looking with wonder at 'exotica' like the okapi; like a child looking in a mirror.
The first time I went to the Melbourne Museum when I was a teenager in the early 1970s, there was a large glass diorama out in the middle of the room with a stuffed animal amid jungle foliage. It was an okapi, a creature I'd never seen or heard of before. I loved its gentle name and appearance.
Across to the right and a little way down from it was another glass case with the front half of a stuffed tiger leaping out majestically from the wall.
To the left were some stairs.
This poem was written from notes made on a train journey returning to Sydney from Melbourne, and after visiting the museum again when I was older.
At the end of last century the Museum was relocated from its premises next to the State Library in the Latrobe Street block, and underwent massive chages. I don't know if this diorama is still exhibited. But this is where this creature lives in my mind:
Diorama :
The Melbourne Museum

Okapi (-ah -) n. bright-coloured partially striped
Central-African ruminant discovered 1900,
with likeness to giraffe, deer, and zebra.

–The moth eats
–The museum preserves
–The Okapi arrests

She sits in her glass case
watching the stairs

Feels her danger
but doesn't see, the tiger
springing out
teeth bared

Lost) in deep forest

(Found
in 'perpetual
                      heat
                      moisture
                      gloom
                      & silence'
[in a glass box]

With the smell
of the stone stairs

The smell of the
stonestairs
                 (like)
                            schoolgirls

*
Links:
'Diorama' is from Things in a Glass Box (SCARP/Five Islands New Poets series). For a kindle ebook version, click here. If you'd like to purchase a print copy ($10 posted within Australia), or a pdf version, send me a message.
Here's an audio version of this poem, that was produced with soundscape by Sydney sound artist Stuart Ewings, for a feature with other poems from Things in a Glass Box, and broadcast on ABC Radio National's Poetica in 2004.
And here's an essay I wrote as background for the radio program, called 'The Museum of Fire'.
If you remember the old Melbourne museum – or have any favourite museum memories – please leave a comment, thanks!
Thanks for liking and sharing!