Thinking of my mother today, so thought I'd share this piece from ABC Radio National's Earshot, which is based on a long poem in Vagabondage.
You can listen at Earshot's website (just click on the 'download' button), or at their podcast page, or at youtube below.

This piece was written a few years back. Sadly my mother can no longer play backgammon or go for walks outside with her roller walker and sunglasses, and no longer recognises anyone from her past. But she can still make new friends: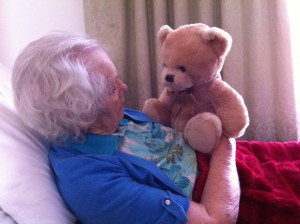 Thnking today of all who mother in some way – whether connected by blood or kindness.
Love the one you're with.  xxb